Are your IEP teams using student data to select the best 
type of reading accommodations?
There's no more second-guessing with a new FREE guide developed by two IEP team leaders, Dr. Denise DeCoste and Linda Bastiani Wilson, MA.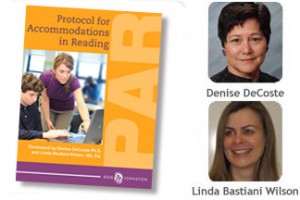 The Protocol for Accommodations in Reading framework (PAR), guides data-based reading accommodation recommendations-human reader, audiobook, or text reader (like Read:OutLoud). Anyone on the IEP team can administer PAR to systematize how reading accommodations are recommended on a student level or across the school district.
See for yourself…download PAR for FREE now!

PAR Includes the Tools You Need to Be Successful
Protocol—guides your team to collect data to compare independent reading, reading with a human reader and reading with a text reader
Reading Samples—provides eight reading passages (four narrative, four expository) and vocabulary questions for each grade level, grades 3rd through 10th
Quizzes—contains comprehension quizzes for each reading passage—factual, topic-related, inferential and vocabulary
Multiple Formats– reading passages are available in Word, PDF and ePUB so that you can use them in any accessible eBook manager, or within your text reader (like Read:OutLoud)
Watch an On-Demand PAR Webinar
Watch a recorded webinar delivered by Denise DeCoste that will help you get the PAR Framework off the ground and immediately working in your setting.
Watch Online
This PAR webinar covers:
Research about reading accommodations
The motivation behind creating PAR
How to carefully consider a reading accommodation
A process to compare performance across accommodations
Forms for collecting data, making recommendations and sharing outcomes
Please be patient, the video may take additional time to load. (60 min)