< Back  
District: Adams School District 14-SWAAAC  • Location: Denver, CO
Leaders: Alison Montana, AT specialist
Over the years, Alison has seen lots of students succeed who were labeled 'unlearnable.' She found creative ways to help them read and write with assistive technologies including SOLO. 

Colorado Educator Shares 20-Year Perspective on Assistive Technology and IDEA
November 29th, 2010 marked the 35th anniversary of IDEA, the Individuals with Disabilities Education Act, originally enacted in 1975 as the Education for All Handicapped Children Act, 94-142. The legislation was signed by President Gerald Ford at a time when nearly 1.8 million kids with disabilities were excluded from public schools.
Fast forward 14 years from this enactment and meet Alison Montana, an AT Specialist in Colorado who began her career in 1989. At that time, disability laws were in their infancy. "There was no assistive technology back then," said Alison, "but many of the key issues in IDEA are still the same today such as due process, parental rights, and a free and appropriate education for all (FAPE). "And today 2010, teachers are working hard to create a least restrictive learning environment for children with special needs. The challenge, however, is many teachers still don't have the knowledge or time to realize how assistive technology tools can benefit their students."
An AT early adopter, Alison was one of the first educators to envision what a simple technology tool could do for students with disabilities. She fought for visual pictures to represent words for children who had no voice. She asked for a switch interface to help a young teen operate a computer. She saw students motivated to learn and this motivated her to keep the momentum going. Her special education director was an early adopter of technology and set high expectations for her staff to explore devices that would spark a child's interest. Alison said, "That's when we discovered Don Johnston, a man who built his company to serve children with special needs. It is truly amazing when you see a child write for the first time!"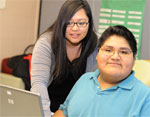 Today, her Colorado school district is an exemplary model of using AT to support a wide range of students' needs from the most significant disability to high incidence. The Colorado Department of Education built teams of multi-disciplinary specialists, known as SWAAAC, (Statewide AT Augmentative, Alternative, Communication or Supporting Learning Through Assistive Technology) to evaluate students together and make joint recommendations. Alison remembers OTs, SLPs and parents who could not believe the progress children made using the tools. There are 70 teams now that make up SWAAAC and Alison manages the coordination for the Adams School District 14 which supports more than 7000 students with an 80% Hispanic population.
In 2009, her district used ARRA funds (American Recovery and Reinvestment Act) to purchase SOLO, a literacy software suite of four accommodation assistive technology tools. The tools support students with cognitive delays, physical disabilities and who are at risk of failing general education literacy requirements. Alison recommends the software for ESL students who find it difficult to spell in English. "I see their reading comprehension skills improve," she said. "It's a good supplemental learning tool that doesn't replace a teacher, but helps them to deliver instruction in multiple ways, which keeps kids focused."
A student with a traumatic brain injury recently told Alison he wanted to drop out of school. He was behind and lost hope of graduating. She set up a tripod on his wheelchair and introduced him to the AlphaSmart with Co:Writer, a word prediction program that helped him gain back his vocabulary and grammar skills. Alison likes the pre-made word banks relevant to her curriculum. Her student liked that he could add his own topics, like skateboarding. He stayed in school, graduated and went to college.
For students with autism, Alison says AT can be an excellent resource. One student who did not speak, but interrupted classes finally settled down after being put on the computer. By the end of the year he was talking and doing well in class. Mrs. Angie Vasquez, a parent of twin boys with autism said, "I like SOLO because my boys both have trouble with reading comprehension. Now they understand what they read, are more organized and write more often, which has improved their writing skills."
Matt Bitner, a special education teacher for the district said, "When we looked at student behavior in our writing classes we found that a number of students always acted out. We tried SOLO in our writing lab as part of an intervention program. Not only did bad behavior decrease, but these students wrote three to four more paragraphs and more frequently with correct grammar."

Alison's district also uses Read:OutLoud, an accessible eReader that reads digital text aloud and has built-in study tools. She said students used to listen to books on tape, but they didn't take notes or collect facts. In Read:OutLoud students can highlight text and add notes in a sidebar. Teachers can write instructional notes, too to help their students gather the right information for a good book report. "These study tools are convenient for kids and keep them on task," shared Alison.
"Teachers care about children and want to see them learn," summarized Alison. "I personally believe teachers are getting a bad rap. We have to find new ways to help them teach and to show them how AT can help them do what they do best. Kids in this digital age want to use technology. And from my experience, I know it can level the learning field, which is what the IDEA law was designed to do. I wouldn't have pictured myself as a technology pioneer, but I'm proud of it. Over the years, I've seen lots of students succeed who were labeled 'unlearnable.' It's time we explore assistive technologies and put them to the test for lots of kids in different learning environments."

The United States House of Representatives is considering a resolution, introduced by Rep. George Miller, D-California, to honor the 35th anniversary of IDEA. Read more about this resolution on the Office of Special Education and Rehabilitative Services website.
Written by
Valerie C. Chernek
with Alison Montana, AT Specialist for the Adams School District 14, Denver, CO
Recently, members of this team shared with us a button they sometimes wear that says…Have YOU Used Your AT Today? We liked the idea so much that we made one for you to print and wear (DOC) in your school. You can stick it on your desk, computer, lapel or the door of your principal's office. That should get some attention. (SMILE) Let us know how you use it!
Read President Obama's statement on IDEA and learning for all.